Sights
There are plenty of buildings and places worth seeing in Innsbruck. You find a list and short description of all sights in Innsbruck here.
You will for sure discover the sights yourself, but to give you some hint, we tell you our absolute must-sees. Here are our top 5:
The whole Old Town with the Golden Roof: Innsbruck's landmark is the centre of the Old Town, but there are plenty of more sights to discover in the small streets like the cathedral or the tower of Innsbruck.
Hofburg & Hofgarten:  Visit the residence of Tyrol's ancient sovereigns. You can see the ballroom, the emperor's apartments, etc. The Hofgarten is a beautiful park just opposite of the Hofburg where you can relax on the grass or play some chess at the giant chess board.  
Schloss Ambras: Schloss Ambras is a beautiful 16th century castle, located in the East of Innsbruck. Its beautiful park (no entry fee!) is the home to a couple of peacocks who walk around freely. The castle itself offers a nice collection of over 200 portraits and other exhibits. Furthermore, you will see arms chambers and a chamber of wonders.
Bergisel with the museum and ski jump stadium: The Bergisel is a historic monument: it is where the Tyrolean rebels fought Napoleon back in 1809. Plunge into history in the new museum and then visit the ski jump stadium. The view from the ski-jump tower will definitely impress you. Both the museum and the ski jump tower host a restaurant. 
Nordkette: Nordkette, a huge mountain chain in the north of Innsbruck, is perfectly accessible by public transportation and cable car. Even if it hasn't snowed yet, you should definitely take a ride to either Seegrube station (there's a restaurant) or even to Hafelekar (if the weather is good, you can see really really far) and enjoy the stunning view. You will definitely be surprised by the little time it takes you to get from the city centre up to almost 2000 metres over sea level.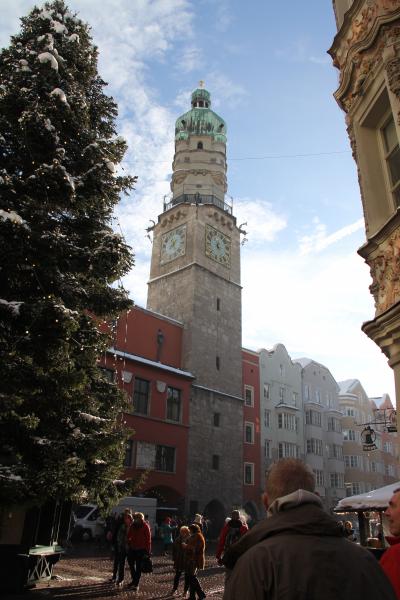 But, of course, this is only a small overview. You also definitely shouldn't miss the Maria-Theresien-Straße with Triumpfphorte, Alpenzoo (Europe's highest zoo) or the colourful houses of Mariahilf next to the river Inn.
Contrarily to cities like Paris, Tyrolean cemeteries aren't neither a tourist attraction nor a place to take a walk. But there's a tiny old cemetery in the middle of the forest that is worth seeing: the Tummelplatz.
The tourist office of the city Innsbruck has elaborated predefined tours which help you discover Innsbruck in one day or in three days or which show you the green or the architectural side of Innsbruck.
If you want to discover Innsbruck with a guide, check out the website of the tourist office of Innsbruck. The association PerPedes offers creative as well as "normal" guided city tours and makes you discover a side of Innsbruck you haven't known before (also interesting for locals).
If you're interested in modern architecture, you will find many interesting constructions in Innsbruck.
There is lot of information for the disabled online as well as a list of Innsbruck's barrier-free sights.
If you want to do some sightseeing outside of Innsbruck, check out these suggestions.
If you plan to visit several sights in a very short time, you should consider buying an Innsbruck Card. This card is available for 24, 48 or 72 hours and gives you free or discounted access to a lot of sights (and also to public transportation). It is also a good idea for your friends when they come to visit you. The card includes much more sights than you can visit in one, two or three days, but if you chose some normally rather expensive sights (like going up to Hafelekar which costs almost € 30,-- per person), it is absolutely worth the money .
Museums & art galleries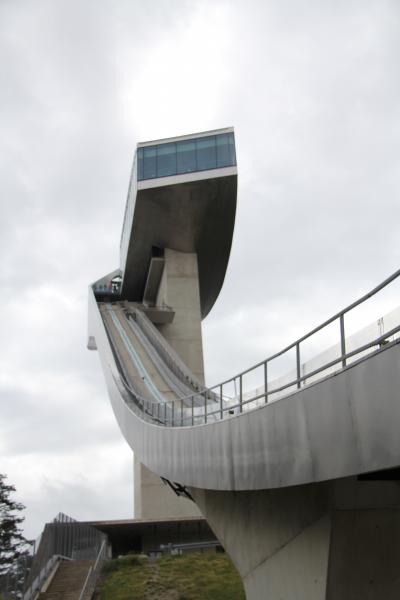 You can find a list of all museums in Innsbruck here.
You definitely shouldn't miss the museum at Bergisel where you can see the famous Riesenrundgemälde. The Tiroler Volkskunstmuseum, the museum in Schloss Ambras and in the Zeughaus are other must-sees if you're interested in the history of the Tyrol. 
If you're interested in art, you will for sure be interested in the list of all art galleries in Innsbruck.
Cultural events
There are three theatres in Innsbruck: Tiroler Landestheater, Kellertheater and Theater an der Sill.
Furthermore, classical concerts often take place. Innsbruck also hosts two music festivals, one around Easter, the other one during summer.
If you're interested in foreign cultures, you can visit the events of one of the local cultural institutes and associations like the Institut Francais d'Innsbruck or the ACHT / Asociación Cultural de Hispanohablantes in Tirol. 
Miscellaneous
There are four cinemas in Innsbruck: Metropol and Cineplexx show popular movies like Hollywood blockbuster whereas Leokino and Cinematograph show rather small budget, European movies (in the original version with subtitles). You find the daily programme either in the newspaper or online (altogether or separately on each website). There are special student discounts at Metropol & Cineplexx on certain days of the week.
There are several places where you can play at skittles, but only one bowling centre in Innsbruck. Check out their special offers (e.g. all you can bowl, the boy pays / the girl bowls for free, disco bowling, etc.) on their website. 
If you want to do an outside barbecue, but you have no balcony or garden, you can use one of the public barbecue places of the city of Innsbruck.
There also is a casino in Innsbruck.  Please keep in mind that you need to be nicely dressed and show your identity card to be granted access (more information here).