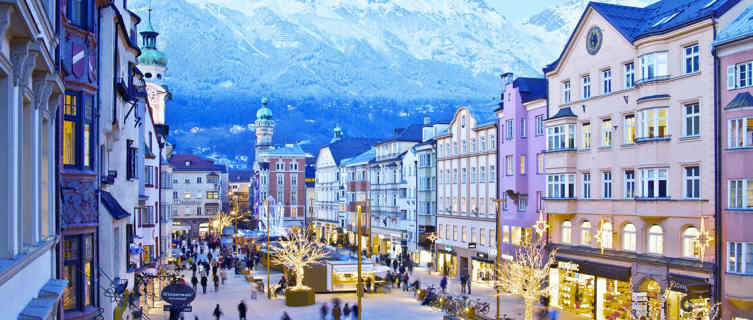 Who are we and what do we do?
We are a non-profit organization whose goal it is to take care of the incoming students here in Innsbruck. We do not only provide practical advice (e.g. on finding an accommodation, on where to go out, etc.), but we also organize a lot of events, trips and parties for you. You - that's basically everybody, no matter if you're an incoming student or just doing an internship here in Innsbruck. Also local students are welcome at our events!
Besides our events, we host a buddy network where local students and exchange students are brought together to enhance your integration here in Austria.
ESN Innsbruck is part of an international organization present in 40 countries all over Europe, more than 900 local sections (like ESN Innsbruck) offer daily assistance to over 200.000 exchange students.
All our team members are students – and volunteers: we organize everything that you see here completely in our free time and don't get paid for our work.
What do we have to do with the Erasmus programme?
When ESN was founded more than 20 years ago, the team members mostly took care of Erasmus students - that's why we have the word "Erasmus" in our name. Nowadays, we take care of everybody, no matter where the exchange student is coming from or whether he or she is taking part in an official exchange programme (Erasmus, Joint Studies, etc.) or is a "free-mover". Also local people or people doing an internship here in Innsbruck are welcome at our events.
So, the Erasmus programme of the European Union and our association "Erasmus Student Network ESN" are not the same. And unlike the international offices of the respective universities, we don't take care of the administrative tasks, but organize parties, trips, etc.
What do we have to do with the ÖH? 
ESN Innsbruck is an independent association. We are not part of the ÖH, but we work closely with them. We share an office, we do mutual office hours to give advice to incoming students and we organize events with them. Some of our events are organized in cooperation with the ÖH and we also do promotion for events which have been organized completely by the ÖH Referat für Internationales. 
Find more information on the ÖH (what they do, how they work, etc. ) on our respective page.
Where can you meet us?
Every semester we hold a little presentation at the "Welcome Days" of the University of Innsbruck (LFU) and the Management Center Innsbruck (MCI).
One of our first real events each semester is the Welcome Party which is a really nice kick-off event for an incredible semester.
During the semester you can meet us at our events or once a week in our office hours (please check our Facebook page for the current opening hours) at the ÖH Office in Josef-Hirn-Straße 5-7, 2nd floor (not downstairs in the overall office).
How do you get information about our events?
At the "Welcome Days" we always distribute a printed version of our event calendar (with most of the events planned for the upcoming semester). You'll also find a digital version online. But please keep in mind that it has been established at the beginning of the semester, so some things might have changed or been added in the meantime. For up-to-date information please refer to our website or our facebook page / group.
Additionally you can either check our website or our facebook page & group. If you become a member of our facebook group, you'll automatically be invited to all of our events.
The ESN card
As part of an international network, we also issue an international student card called "ESN card". With this card you get a lot of benefits, from local discounts (cheap drinks in bars, a free bank account, a free SIM card with special rates, discounts in our trips, etc.) to special rates with our international partners. You can also use your ESN card in cities all over Europe and benefit from local discounts there.
You can buy the ESN card at one of the "Welcome Days", in our office hours or during our events.
If you already have an ESN card (and it's still valid), you can of course use this card also here in Innsbruck, you don't need to buy a new one.
But of course you don't need to have the ESN card to take part in our activities.
You still have questions?
Please check our website for further information, we tried to collect as much information as possible on ESN, the life in Innsbruck and the activities & benefits we offer.
If you still have questions, you can always contact us via mail or on facebook – or just talk to us at the Welcome Days or one of our events :)
Looking forward to having a great semester with you!
Your team from ESN Innsbruck